List of my own cooking recipes.
Crema de Rocoto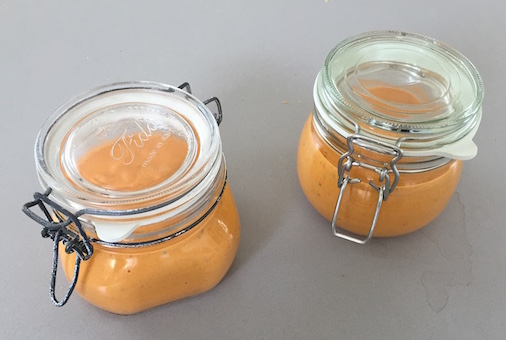 Below is the recipe for my own version of Crema de Rocoto. Since Rocoto Rojos are not available in Switzerland, I grow my own Rocoto Peron. They are quite a bit smaller and less spicy than Rocoto Rojos, but taste equally good. I made the Swiss version of Crema de Rocoto with Rocoto Perons. It is less spicy than the original version, but very flavorful and tastes great as a dip or on a piece of bread.
Ingredients
The following ingredients are needed for about 1 Liter of Crema de Rocoto
2 Red Peppers
3 dl Olive Oil
125g Rocoto Peron Chilis
500g Onions
Preparation
Cut all ingredients in small pieces and start boiling them in the olive oil. Put it on a small flame and let it simmer in the oil for about 45 minutes until all ingredients are soft and the skin of the chilis and the peppers start to peal off.
Put it into a container to purée. Purée it until the consistency is creamy. Still hot, fill it into conservation containers.
Now it is ready to be consumed. Depending on how spicy you like it, you can add more or less chilis or change the sort of chillis and their spicyness.
Enjoy.